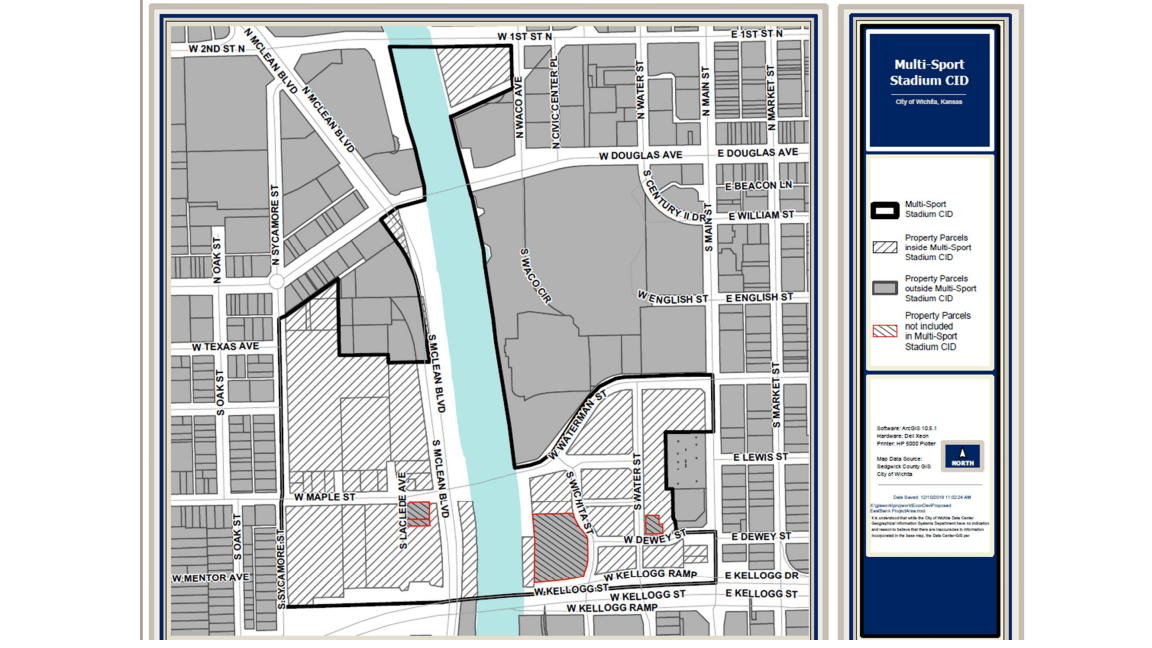 Wichita city council members have voted unanimously to approve a Community Improvement District that will cover a strip of land surrounding the new baseball stadium on the west bank of the Arkansas River downtown.
The district will be in effect for up to 22 years and it will include a two percent sales tax for businesses within the district boundaries.  The revenue generated from the district will be used to help with the design and construction of the stadium, utilities, parking and improvements along the river corridor, as well as surrounding development on the west bank.    The district was approved on an emergency basis so notice can be provided to the state and have the sales tax go into effect on April 1st.
City council member Bryan Frye said he wants to set aside some revenue later for a performing arts center and development on the east bank of the river, as work continues on a Riverfront Master Plan.   He said it will be important to get the west bank project completed and paid for, so the projects on the east bank can be done.
The council also approved a development agreement with a private group called Riverfront Partners.   The group is buying about seven acres of the Metropolitan Baptist Church site north of the stadium, and it will be working to develop up to 500,000 square feet of hotel, commercial, office and residential development.    The agreement also provides for parking with the construction of a parking garage and surface lots, and the city will purchase property west of the stadium to provide surface parking.      City manager Robert Layton said the city has secured over 800 parking spaces in the direct neighborhood of the stadium.   The city also has received a $14 million federal grant to construct a transportation facility in the Delano district that will include 500 parking spaces.
Mayor Jeff Longwell said the agreement will be outstanding for the city, for Delano and for the efforts being made by the city to improve quality of life in the community.   Vice mayor Jeff Blubaugh said the activity on the west bank will be some of the greatest development ever seen in Wichita.