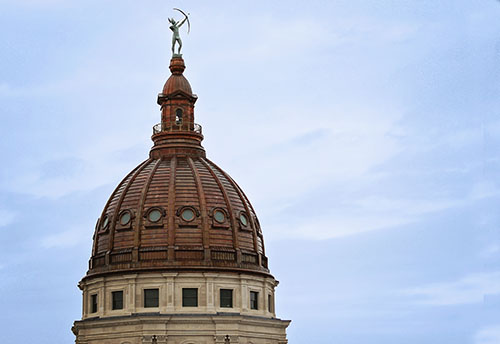 State of Kansas
Kansas has received additional testing supplies and personal protective equipment from the federal government.
Governor Laura Kelly says she spoke with President Trump Thursday about the lack of enough testing supplies and equipment, especially for southwest Kansas where the majority of the state's meatpacking industry is located.  The governor expressed the state's need to conduct more testing there to help start the process of reopening the state for business.
After further talks with federal officials over the weekend, the state has received more testing supplies and protective equipment.  During a Monday afternoon press conference, Kansas Secretary of Agriculture Mike Beam reiterated that there is no danger of contracting Covid-19 through the food supply either through meat or packaging.
The concern is a sick workforce that is unable to keep up the supply chain.  However, Beam says they have been in frequent communication with the industry and say there are no issues with the supply chain and they are meeting or exceeding demand.
Meanwhile, Governor Kelly spoke about reopening the state to business.  She says she is working with federal agencies on guidance for opening the state back up.
The governor says she understands many are anxious to get back to work, but careful consideration is needed.
"If we move forward prematurely, if we do not ensure all of the health indicators, testing supplies, and contact tracing capacity are at robust, sustainable levels before we transition back, then we will inevitably find ourselves facing a second wave."
Kelly says the state will soon receive the latest revenue projections for the state that will provide a clearer picture on how the Kansas economy has been affected by the outbreak.  She expects revenues to be down significantly, given that the deadline to file taxes was pushed to July, which is the start of the next fiscal year for the state.