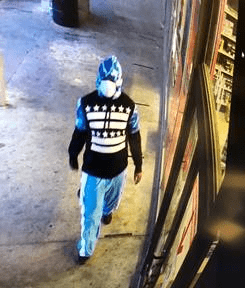 An employee of the AutoZone, at Lincoln and Oliver, was fatally shot Sunday night.
Wichita police were called to the store around 9 p.m., and found a 40-year-old man dead at the scene. He was later identified as Nicholas Blue of Wichita.
Two other people were working at the time, and reported finding the employee when they returned to the front of the store. At the time of the shooting, one worker was reportedly in the restroom, while the other was in the back of the store retrieving a part. It seems that neither employee heard the gunshot.
Police say an unknown man walked into the store and fired, but this person's motive is not clear.
Anyone with information or who saw someone wearing the clothing in the picture is asked to call police directly at 268-4407. You can also call the See Something, Say Something Hotline at 519-2282, or Crime Stoppers at -267-2111.