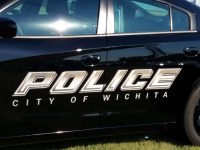 A 27-year-old man is facing multiple charges after a pedestrian crash in downtown Wichita.
Two WPD detectives saw a driver hit a woman in the crosswalk at Douglas and Main, around 1 p.m. Tuesday. Injuries were described as minor and the driver kept going. The pickup was later spotted at Kellogg and Meridian, where police tried to stop the driver. This started a chase that ended near Douglas and I-235 after the driver crashed. He was arrested in the 100 block of South Clara after running away on foot.
The 27-year-old was booked for felony evade and elude, hit and run, criminal possession of a gun, and warrants from Nevada.