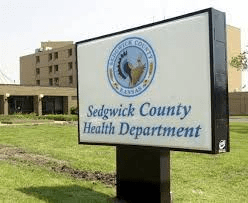 Sedgwick County's mobile COVID-19 testing team will in Wichita on Thursday.
Walk-up testing is being offered for free and without an appointment, from 8:30 a.m. to 11:30 a.m. and the following locations. Testing is only being offered to people with symptoms of COVID-19, or people who have been in contacted with other people who tested positive. Asymptomatic testing is only being offered to first responders and healthcare workers.
Thursday, October 1 at University United Methodist Church, 2220 N. Yale, Wichita, 67220
The Sedgwick County Health Department lists the following symptoms as being associated with COVID.
Cough
Shortness of breath or difficulty breathing
Fever
Chills or shivering
Muscle or body aches
Headache
Sore throat
New loss of taste or smell
Diarrhea
Fatigue or feeling more tired than normal
Hours at the drive-thru testing site in east Wichita are being expanded. Appointments are needed to use the drive-thru site, at 620 North Edgemoor, in the old National Guard building. Appointments are made by calling 211.  ,
Starting September 14, Sedgwick County residents with appointments can obtain no-cost COVID-19 testing at the following times:
 Monday, Wednesday, Friday – 8:30 to 11:30 a.m. and 1 to 4:45 p.m.
Tuesday and Thursday – 8:30 to 11:30 a.m. and 1 to 6:45 p.m.
 During the week of September 14, nasopharyngeal (NP) swabs will be collected for testing on all days except from 1 to 4:45 p.m. on Wednesday, September 16 when the SCHD will pilot saliva testing at the DTSS.
 SCHD will implement more saliva testing the week of September 21.
If you have any questions about COVID-19 testing you're asked to call 211.
Sedgwick County reopened applications for CARES Act funding for businesses. Small businesses can also apply to receive a PPE supply kit if needed. Applications for both programs can be made by using the following link.