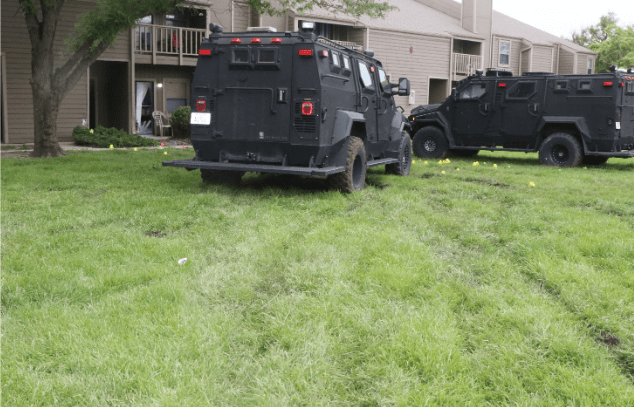 Sedgwick County district attorney Marc Bennett said Monday that a Wichita police sergeant and a detective acted in self defense when they fired shots at a man during a 2019 standoff.
56-year-old Fred Burton was killed on May 23rd, 2019 in a confrontation with officers at an apartment at 727 West MacArthur.
Bennett said neighbors had reported hearing "explosions" just before 2 a.m. that day, and they were evacuated when officers found bullet holes in a wall shared with a neighboring apartment.   Other residents were evacuated and officers heard more gunshots.    A SWAT team contacted Burton in his apartment, but he made obscene gestures at a sliding glass door and then retreated back into the apartment.   Officers launched smoke canisters into the apartment and then there was an exchange of gunfire.   Burton was found dead in the apartment with a rifle next to him.
Bennett said 83 shell casings were found in the apartment and more than 30 bullet holes were found in a wall.   He said under Kansas law, the officers who fired at Burton acted in self defense of themselves and others and are immune from prosecution.
Bennett also said Burton's family had been trying to help him with mental health issues, and Burton had methamphetamine in his system at the time of the standoff.