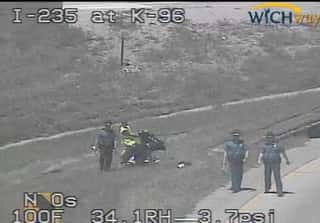 A motorcycle rider was seriously hurt when his bike hit a sign on an exit ramp from Interstate 235 in northwest Wichita.
The crash was reported around 1:45 p.m. Tuesday at the exit ramp from I-235 at Meridian.  The Kansas Highway Patrol said 50-year-old Timothy Stalbaum of Wichita was riding a Harley Davidson motorcycle north on the interstate and he entered the exit ramp at a high rate of speed.  The bike went off the roadway to the left and struck a directional sign.   Stalbaum was taken to a hospital with serious injuries.
Traffic was blocked on the ramp for about an hour as Kansas Highway Patrol troopers were investigating the crash.