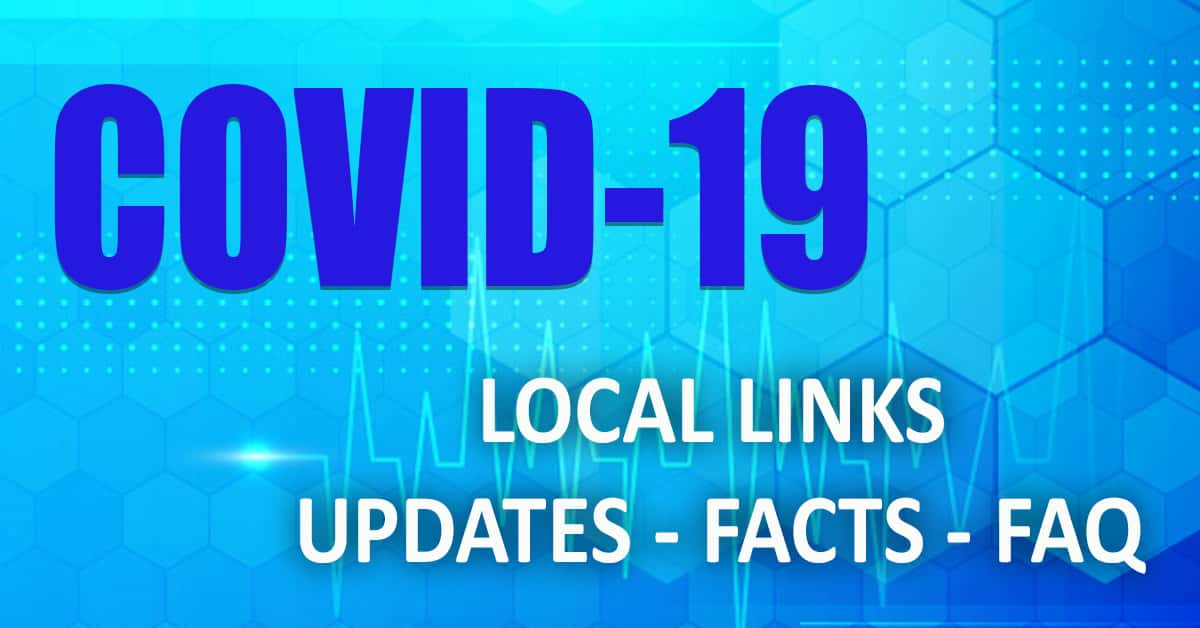 Wichita Area Food Banks & Soup Kitchens – list compiled by The Wichita Eagle

Centers For Disease Control and Prevention Official Cornoavirus Update Page
UPDATE: Change in CDC guidance on the use of face coverings
CDC continues to study the spread and effects of the novel coronavirus across the United States.  We now know from recent studies that a significant portion of individuals with coronavirus lack symptoms ("asymptomatic") and that even those who eventually develop symptoms ("pre-symptomatic") can transmit the virus to others before showing symptoms.  This means that the virus can spread between people interacting in close proximity—for example, speaking, coughing, or sneezing—even if those people are not exhibiting symptoms.  In light of this new evidence, CDC recommends wearing cloth face coverings in public settings where other social distancing measures are difficult to maintain (e.g., grocery stores and pharmacies) especially in areas of significant community-based transmission.
It is critical to emphasize that maintaining 6-feet social distancing remains important to slowing the spread of the virus.  CDC is additionally advising the use of simple cloth face coverings to slow the spread of the virus and help people who may have the virus and do not know it from transmitting it to others.  Cloth face coverings fashioned from household items or made at home from common materials at low cost can be used as an additional, voluntary public health measure.
The cloth face coverings recommended are not surgical masks or N-95 respirators.  Those are critical supplies that must continue to be reserved for healthcare workers and other medical first responders, as recommended by current CDC guidance.
This recommendation complements and does not replace the President's Coronavirus Guidelines for America, 30 Days to Slow the Spreadexternal icon, which remains the cornerstone of our national effort to slow the spread of the coronavirus.  CDC will make additional recommendations as the evidence regarding appropriate public health measures continues to develop.
UPDATE: Change in guidance for those with COVID-19
Guidance is changing for those with COVID-19 under home isolation regarding when they may discontinue home isolation. This decision should be made in the context of local circumstances.
In addition to the test-based strategy, an additional option now includes a time-since-illness-onset and time-since-recovery (non-test-based) strategy.
People can discontinue home isolation under the following conditions:
At least 3 days (72 hours) have passed since recovery defined as resolution of fever without the use of fever-reducing medications and improvement in respiratory symptoms (e.g., cough, shortness of breath); and,
At least 7 days have passed since symptoms first appeared.
Previous recommendations for a test-based strategy remain applicable (two negative test results from specimens collected at least 24 hours apart); however, a test-based strategy is contingent on the availability of ample testing supplies and laboratory capacity as well as convenient access to testing. Additional information related to the new guidance can be found on the DHSS website.
Individuals with laboratory-confirmed COVID-19 who have not had any symptoms may discontinue home isolation when at least 7 days have passed since the date of their first positive COVID-19 diagnostic test and have had no subsequent illness.
COVID-19 is a respiratory illness caused by a novel (new) coronavirus that had not previously been identified in humans. A coronavirus is a virus that can cause respiratory illness ranging from the common cold to more severe illness such as Middle East Respiratory Syndrome (MERS-CoV) and Severe Acute Respiratory Syndrome (SARS-CoV). Our public health system—both local, national, and international, is well-practiced with these types of respiratory viruses.
In the United States, we have started to see community spread of this virus and have implemented an aggressive public health response. However, the immediate health risk for the general public in the U.S. is still considered low.
MASK Guidance from KDHE – Template to Make 
Follow KDHE on Facebook
Original Information: 
You've probably seen all the event cancellations in the news and on social media. What is going on? This new phase is an effort to limit the spread of the novel coronavirus. The goal of these mitigation efforts is to help reduce the people treated on any given day, so the healthcare system does not get overwhelmed. There is currently no vaccine to prevent coronavirus disease 2019 (COVID-19).  Slowing the spread of the infection is nearly as important as stopping it. The practice is called "social distancing."  Here are some things you can do right now to help keep our community safe. These tips come from the Centers For Disease Control.
WHAT YOU CAN DO:
Stay home when YOU are sick. 
Wash your hands often with soap and water for at least 20 seconds. If soap and water are not available, use an alcohol-based (60 – 95%) hand sanitizer.
Avoid touching your eyes, nose, and mouth with unwashed hands
Cover your cough and sneeze with a tissue, then throw the tissue in the trash. 
Avoid close contact with people who are sick.
Clean and disinfect frequently touched objects and surfaces.
CDC does not recommend that people who are well using a facemask to protect themselves from respiratory diseases, including COVID-19. Facemasks should be used by people who show symptoms of COVID-19 to help prevent the spread of the disease to others. The use of facemasks is also crucial for health workers and people who are taking care of someone in close settings (at home or in a health care facility).
Interactive Global Cases Map from John Hopkins CCSE
Centers For Disease Control and Prevention Official Cornoavirus Update Page
The Latest Updates From Kansas Department of Health and Environment
SYMPTOMS:
Those who have fallen ill are reported to suffer coughs, fever and breathing difficulties. It can cause pneumonia. In severe cases, it may cause organ failure. Antibiotics are of no use as this is viral pneumonia. The antiviral drugs we have against flu won't work.
Recovery depends on the strength of the immune system. Many of those who have died were already in poor health.
PREVENTING THE SPREAD:
Stay home if you are sick. Do not go to work, school, or public areas if you are sick. Avoid using public transportation, ride-sharing, or taxis. Restrict activities outside your home, except for getting medical care. Separate yourself from other people and animals in your home. Stay in a specific room and away from other people in your home. Also, you should use a separate bathroom. Wear a facemask if sick. You should wear a facemask when you are around other people or pets. Cover your mouth and nose with a tissue when you cough or sneeze. Throw used tissues in a lined trash can; immediately wash your hands with soap and water for at least 20 seconds or clean your hands with an alcohol-based hand sanitizer that contains 60 to 95% alcohol, covering all surfaces of your hands and rubbing them together until they feel dry. Soap and water should be used preferentially if hands are visibly dirty. Don't share dishes, drinking glasses, cups, eating utensils, towels, or bedding with other people or pets in your home. After using these items, they should be washed thoroughly with soap and water. Clean all "high-touch" surfaces every day.
MONITOR YOUR SYMPTOMS:
Seek prompt medical attention if your illness gets worse, (difficulty breathing). Before seeking care, call your healthcare provider and tell them that you have, or are being evaluated for, COVID-19. Put on a facemask before you enter the facility.  These steps will help the healthcare provider's office to keep other people in the office or waiting room from getting infected or exposed. Ask your healthcare provider to call the local or state health department. If you have a medical emergency and need to call 911, notify the dispatch personnel that you have, or are being evaluated for COVID-19. If possible, put on a facemask before emergency medical services arrive.
ANIMALS:
You should restrict contact with pets and other animals while you are sick with COVID-19, just like you would around other people. Although there have not been reports of pets or other animals becoming sick with COVID-19, it is still recommended that people sick with COVID-19 limit contact with animals until more information is known about the virus. If you are sick with COVID-19, avoid contact with your pet, including petting, snuggling, being kissed or licked, and sharing food. If you must care for your pet or be around animals while you are sick, wash your hands before and after you interact with pets and wear a facemask. See COVID-19 and Animals for more information.
CENTERS FOR DISEASE CONTROL AND PREVENTION OFFICIAL MICROSITE